What Is Fire Glass?
Fire glass continues to increase in popularity, leading many to wonder, "What is fire glass?" Luckily, the team at Fire Pit Art is here to answer your question by providing you with a quick guide to fire glass crystals.
What is Fire Glass?
Inspired by the image of flames dancing over an icy surface, fire glass makes your flames come alive without burning! Fire glass reflects instead of burns because it has undergone a process called tempering. The glass undergoes a polishing and tumbling process to create small pebbles resistant to high heat. As a result, the glass doesn't melt, explode, or burn under intense heat and is resistant to discoloration.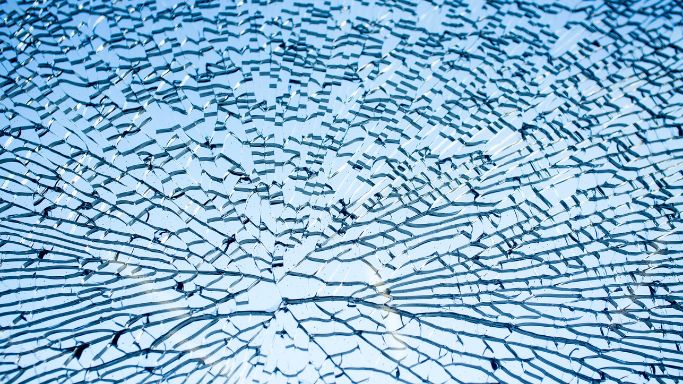 The Fire Glass Tempering Process
What's tempering? We're glad you asked! Tempering is all about how you cool the hot glass. When you temper glass, you rapidly cool or "quench" it with a high-pressure blast of air. As you blast the glass with this stream of air, the instant cooling causes the outer edges of the glass to lower in temperature much quicker than the inside. In addition, the cool air forces the exterior surfaces of the glass to compress quickly while the interior of the glass pulls away from them – creating tension. The combination of tension and compression creates an indestructible glass that is four to five times stronger than regular glass!
How Does Fire Glass Get Its Color?
Fire glass gets its color by adding metal oxides or metal powders to the glass to change its shade. For example, to make blue fire glass, someone would add cobalt oxide to the molten glass to give it a cobalt-blue hue.
Besides the added powders or metal oxides, fire glass is inert. That means it doesn't contain any finishes, additives, or volatile components that will negatively impact your health or fire pit when heated by the flames. On the contrary, fire glass is specifically created to withstand high temperatures and will not discolor even after years of use in your fire pit.
Can You Use Fire Glass In A Wood-Burning Fire Pit?
No, you can't use fire glass in a wood-burning fire pit. Fire glass can only burn in gas or propane-burning fire pits. Fire glass is not flammable and won't have the same aesthetically pleasing effect in wood-burning fire pits.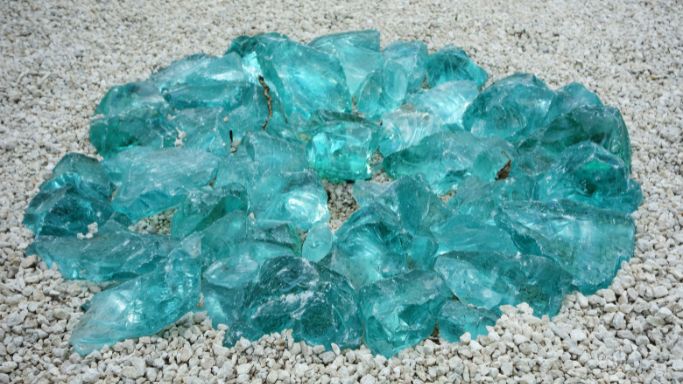 Fun Ways To Use Fire Glass
There are many ways you can use fire glass! Many people use it to replace fire logs and cover up the area surrounding the spigot in gas fireplaces. Other people use black fire glass to surround the fake logs – giving them the appearance of shimmering ash.
You can even use fire glass for outdoor decor by adding it to flower pots or placing it along your garden path for a pop of color.
Does Fire Glass Produce Chemicals?
The short answer is no. Due to the tempering process, the glass is highly resistant to high heat, making it safe for the glass to sit in flames without producing any toxic fumes or melting.
How Much Fire Glass Should I Buy For My Fire Pit?
We usually recommend buying a ten lb. bag of fire glass to fill a standard 18-inch burner pan. However, each fire glass product will include a chart informing you how many pounds you will need for your specific fire pit size. A depth of 1.5 inches will generally work for your fire glass. However, some manufacturers do recommend sticking between the 2 to 4 inches deep range. If you have a large outdoor fire pit, you can use less expensive lava rocks to build up the bottom of your fire pit, placing a thin layer of fire glass on top. Generally, you don't need to build your fire glass depth more than 4 inches as that can prevent the flames from rising over the glass and negate the impact you want.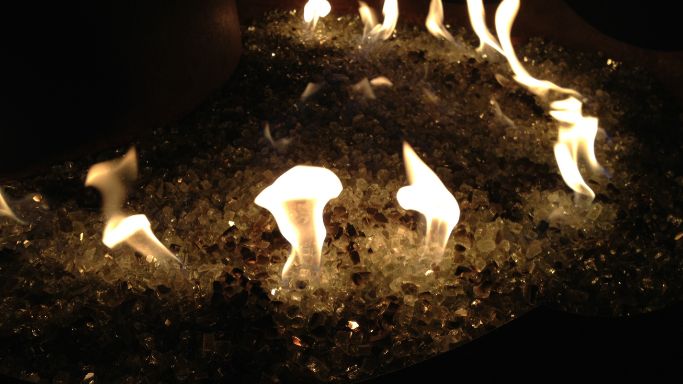 How To Clean Fire Glass
Fire glass is hassle-free and very easy and straightforward to maintain. However, over time you can notice that the color isn't quite as vibrant as it was the first day you bought it, especially if propane is your fire pit's fuel source.
To clean your fire glass, follow these steps:
Shut down the gas supply and wait for the glass to cool completely.
Second, remove the glass from the fire pit or fireplace.
Next, place the fire glass directly into a bucket will make the whole process easier.
Then, fill your bucket with warm, soapy water. You can use dish soap, as you don't need any specific cleaning product.
Stir up those suds with your scrub brush and get scrubbing.
It's important to note that you should never use a chemical or alcohol-based cleaner as these substances can dry on the fire glass and are often flammable.
Fire Pit Art For Your Fire Pit Needs
We hope our fire glass guide has helped inform you about the many aspects of fire glass. There are so many wonderful reasons why fire glass may be an excellent aesthetic choice for your backyard! If you need a gorgeous, expertly crafted fire pit to display your fire glass, look no further than our linear gas-burning fire pits. Reach out to our fire pit expert team to see how we can help you find your perfect artisan fire pit!