Isolation And Comfort: Bring Warmth To Your Quarantine Lifestyle
We are living in unprecedented times. The pandemic of Coronavirus has issued many stay-at-home orders. Students are working on their education through computers and laptops. Employees are working from computers and zoom meetings. Some of us are in furlough and binge-watching Netflix waiting for toilet paper to restock. With technology overwhelming every aspect of our home lives, we need to unplug now more than ever. By unplugging our lives, we can take this time to relax, self-care, and appreciate the nature around us. What better way to do this than by a cozy fire built for such a time as this?
Many homeowners are taking the time of social distancing to perform home makeovers. So why don't you upgrade your backyard fire pit? With Fire Pit Art(r), the options are endless, and the pieces are built to last. We hand-craft each unique fire pit out of 1/4" thick carbon steel, with an Iron oxide patina finish. Maximum durability and a weather-resistant system will have you in awe! Take this time to turn your backyard into your paradise! We have compiled some of our favorite backyard fire pit themes from our catalog. Remember, if you ever want a custom piece, our craftsman, Rick Wittrig, loves to bring your fire pit vision to life!
Waterfront Oasis
Love the sandy beaches and salty sea air? While the waterfronts are under quarantine, bring the water life to you! At Fire Pit Art(r), we use our own beach adventures to inspire these unique designs.
Manta Ray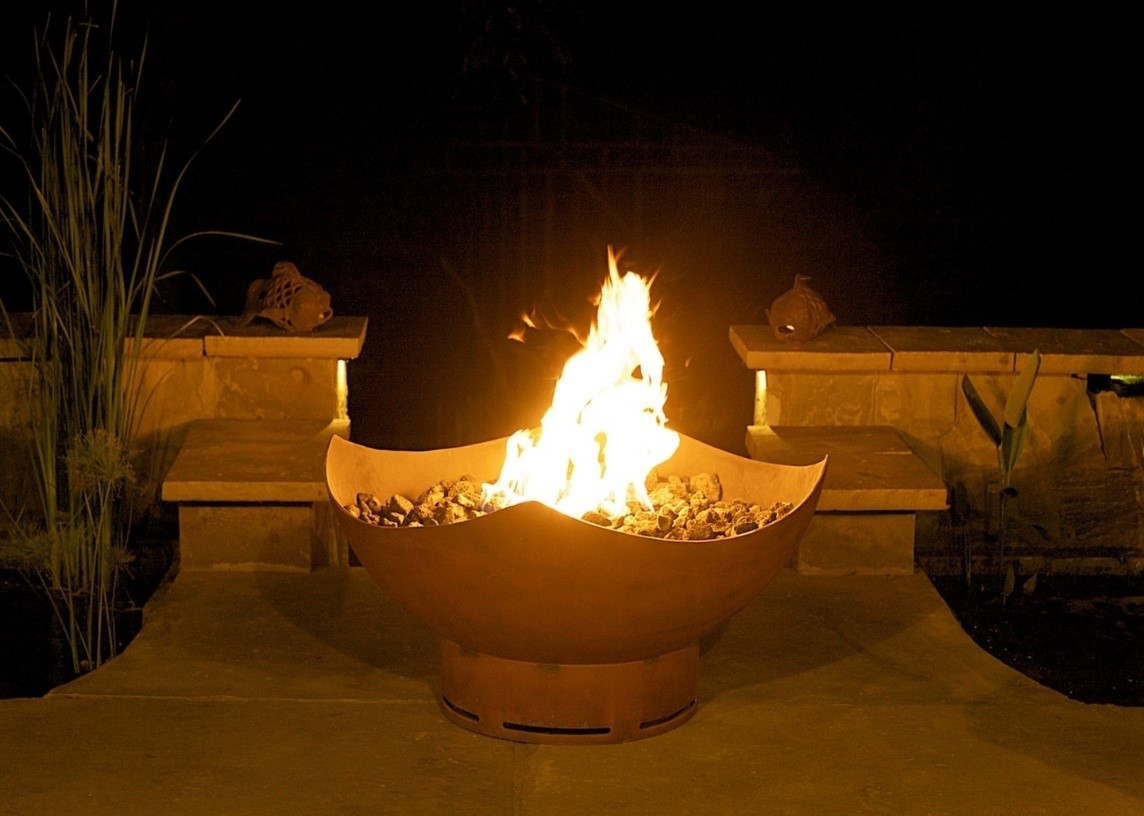 The Manta Ray inspiration was a derivative of our owners diving adventures. Rick and Donna are avid adventurers, and the sea life is a favorite spot for them! Donna is a certified diver and loved the image of the Manta Ray as it glides through the ocean waters. This design subtly brings about the Manta Ray profile, while keeping a sleek and modern look.
Sea Creatures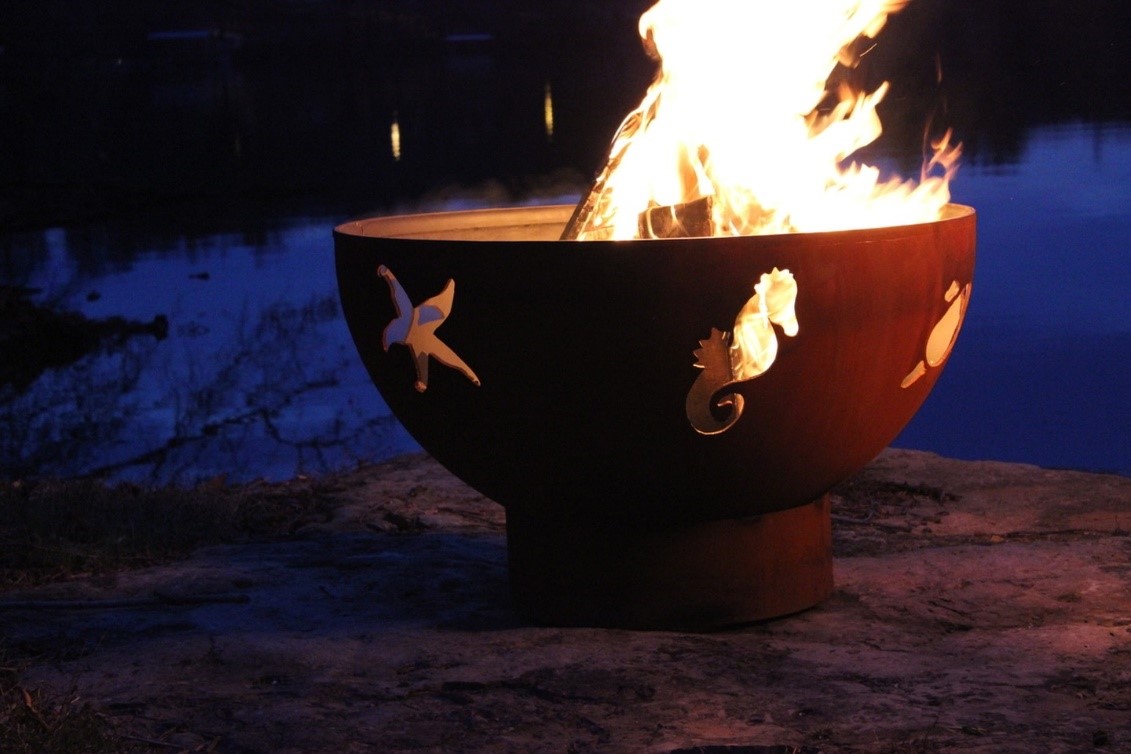 As mentioned, Fire Pit Art(r) owners Rick and Donna love the salty sea life. Sea Creatures fire pit pays homage to a few of the ocean life's classical favorites. Watch the sea turtle, starfish, and sea horse dance around the flames. Whether your backyard is on the oceanfront or the Midwest, keep your love of ocean animals near!
Tropical Moon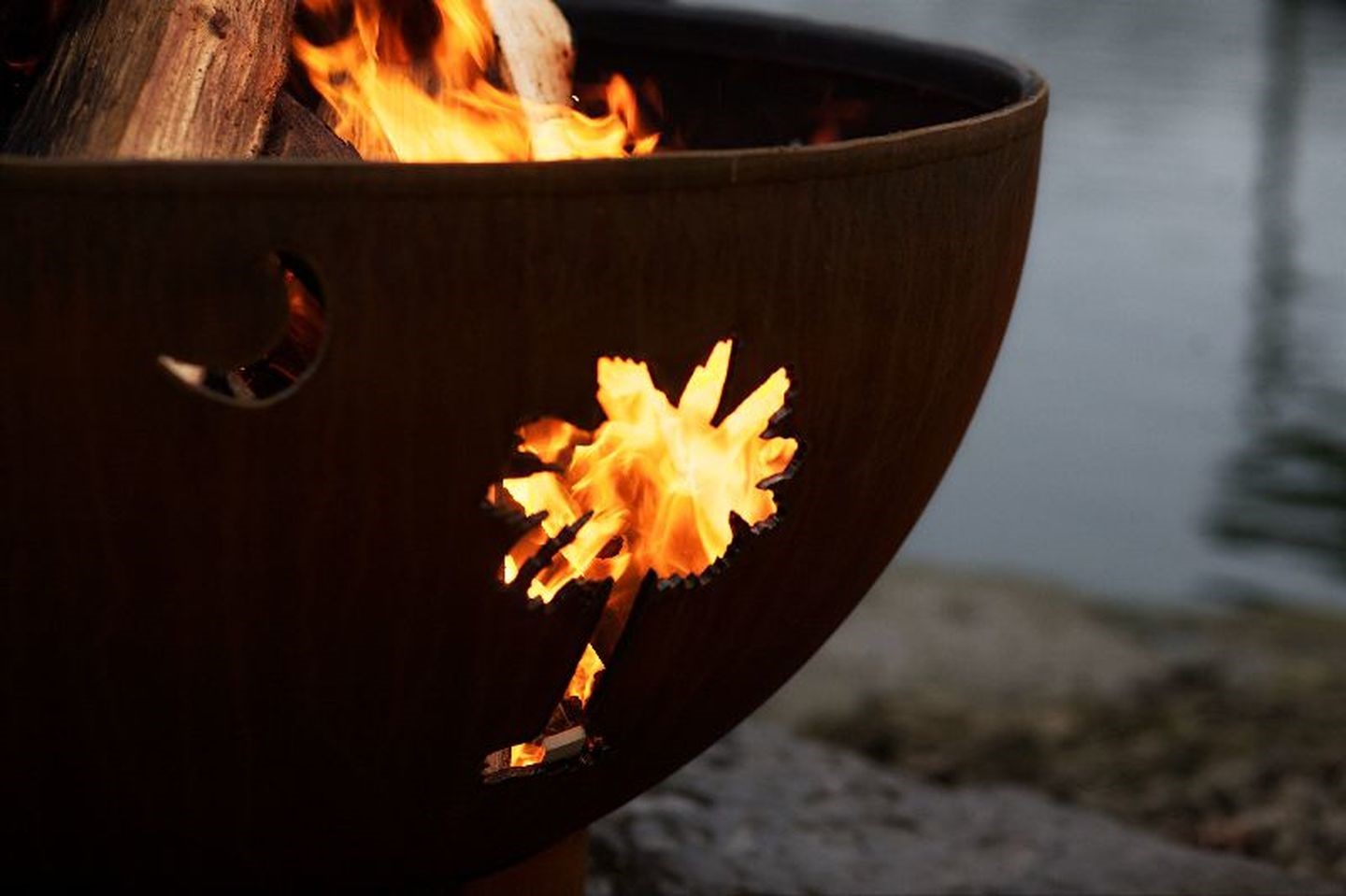 Tropical Moon is our third oasis themed design. With peaceful palm tree cut-outs, your fire will look like a sunset on the beach. The orange dancing flames resemble the orange sunset rays that radiate on the beach line.
Barefoot Beach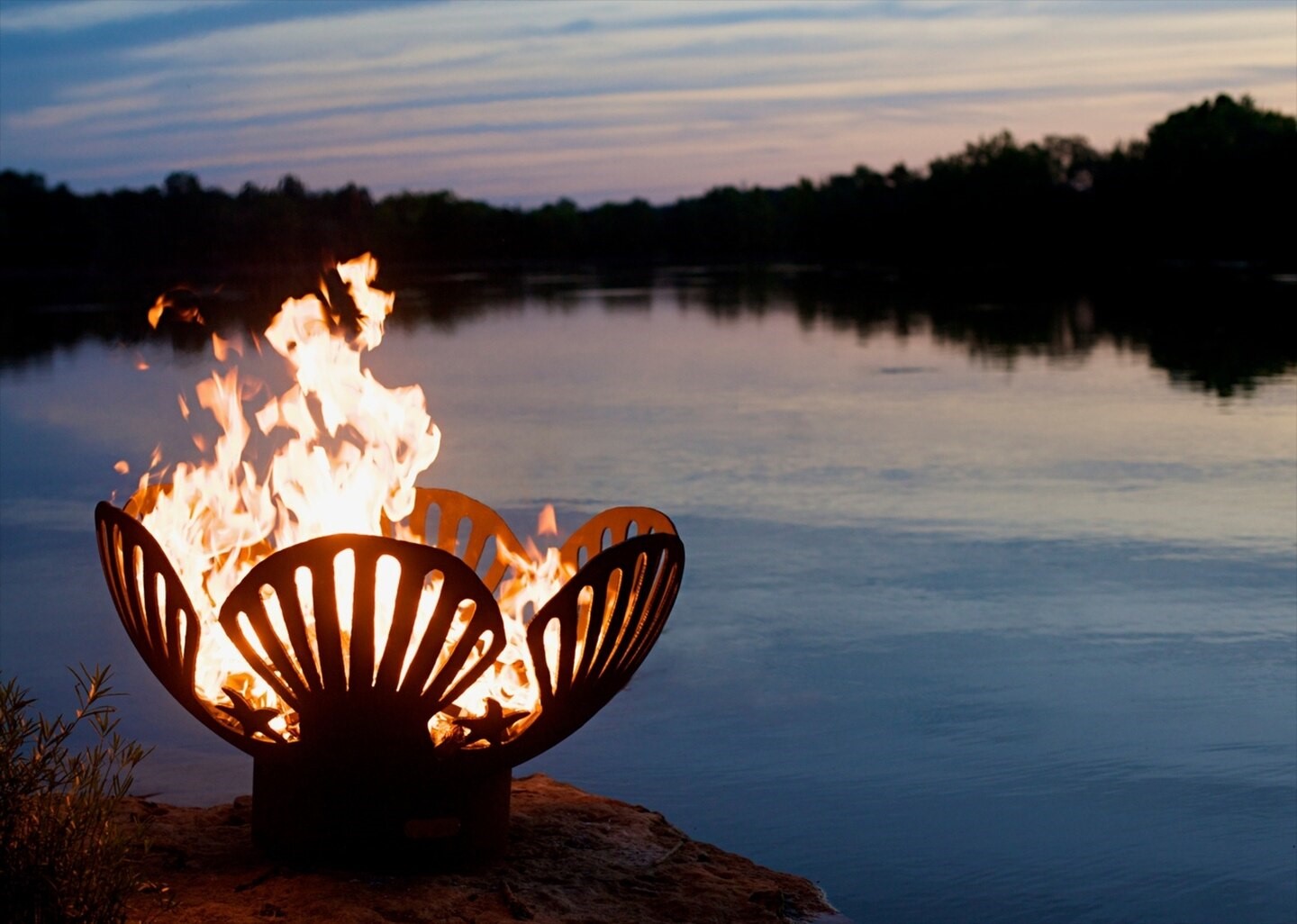 Barefoot Beach fire pit will have you reminiscing of the sandy beach shores you miss so much. This fire pit got its name from Barefoot Beach in Naples, Florida, a Wittrig family favorite. Let this peaceful ocean design take you and your loved ones to a warm and comforting fire on the waterfront.
Beachcomber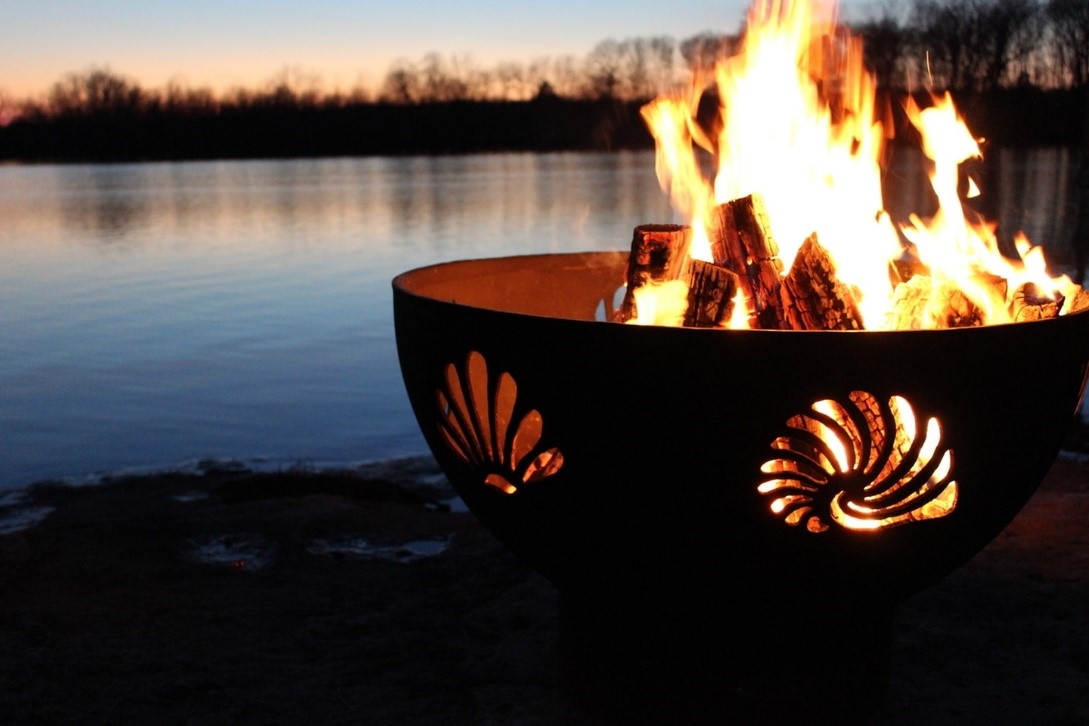 Love to walk the sandy beach shore and comb the land for treasures? That coveted pastime was the memory behind this Beachcomber fire pit design. The design features hand-carved Conch, Nautilus, and Scalloped seashells around the pit. Allow the flames of your fire to soothe you as the waves in the ocean do.
Journey Across The Globe
The world has been shutting its borders left and right. But that doesn't mean you can't experience other cultures right in your own home! The unique Fire Pit Art(r) catalog is mostly inspiration from travels abroad. Each fire pit derives from cultural depictions observed during the Wittrig's adventures.
Asia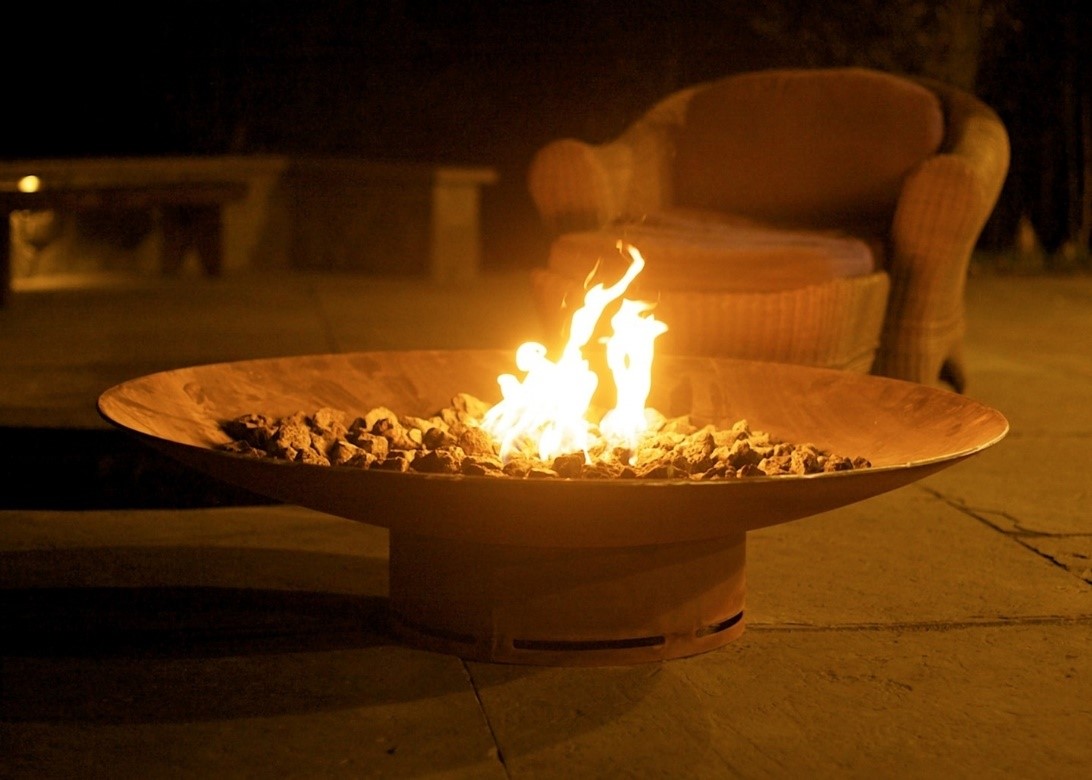 A classical oriental cooking tool, the wok, was influential for this piece. Asia comes in four size variations ranging from 36 inches to 72 inches. This Asian design has a modernized, sleek design that enhances any backyard. Asia uses solid brass burners that burn twice the flame, with half the fuel as other burners. As a bonus, Fire Pit Art(r) offers a lifetime warranty on these brass burners!
Nepal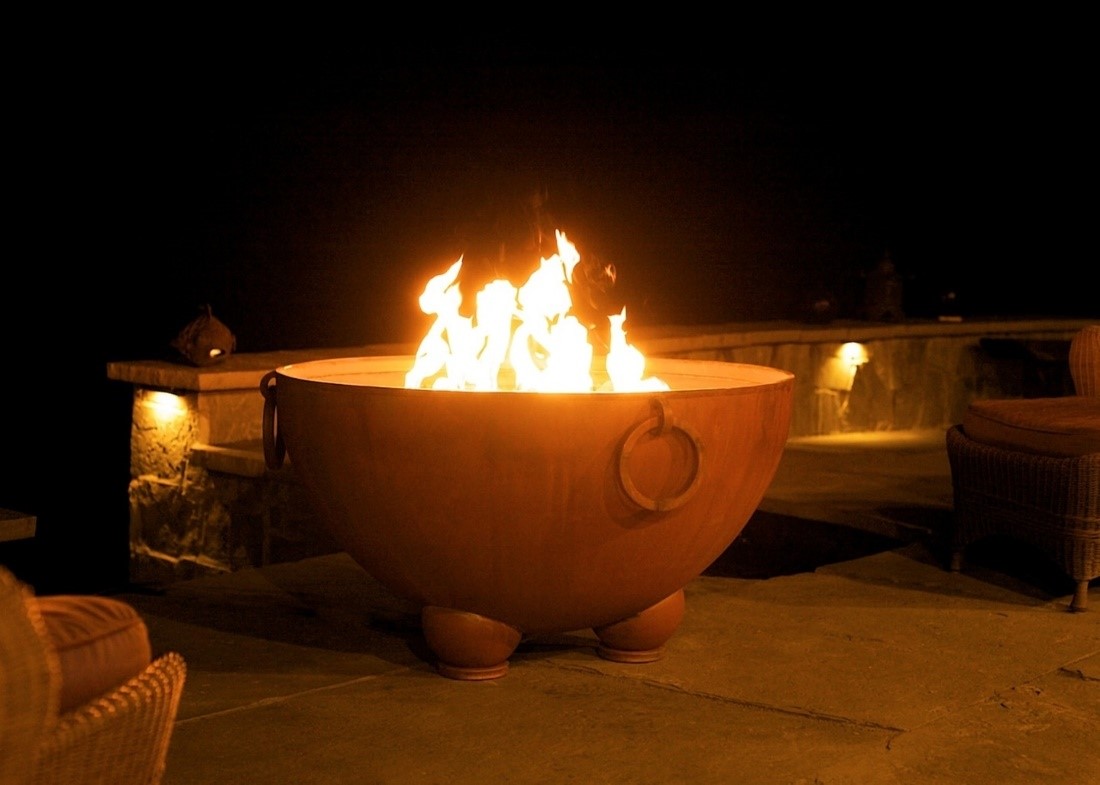 Wood burning in an immense cauldron will bring a new positive energy to your homestead. This fire pit is hand-crafted in the symbolism of the incense burners used in Nepal. Try burning wood and one of our natural bug repellent recipes to keep bugs away, and welcome a calming aroma!
Vesuvius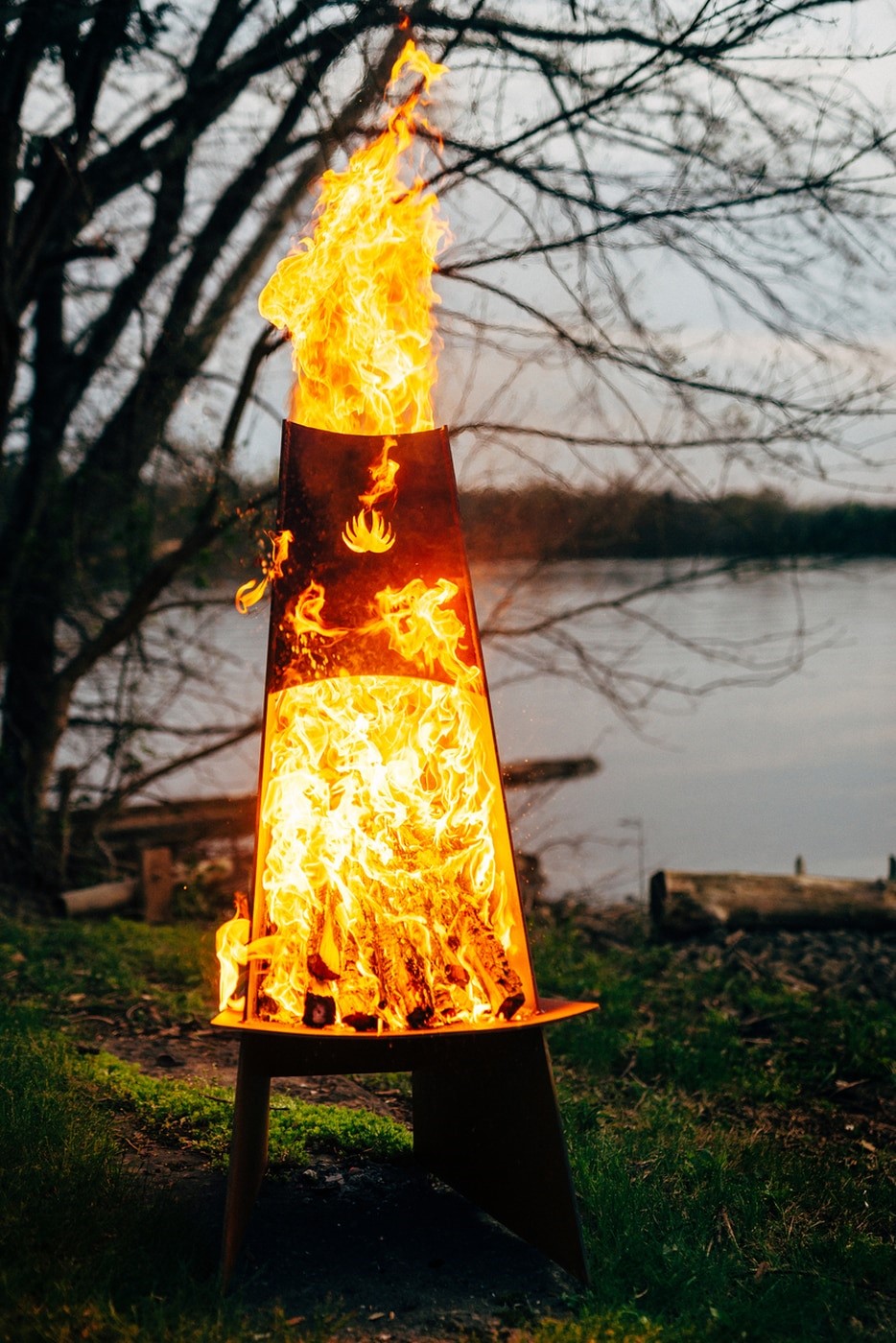 Looking for a unique and eye-catching fire pit? How about a Vesuvius ! Inspiration came from the tops of the active Italian volcano, where Rick and Donna were looking over the historical ruins of Pompeii. Through this memorable journey, Vesuvius fire pit was born. Use this one-of-a-kind design to transform your backyard or patio.
The Animal Kingdom
Funky Dog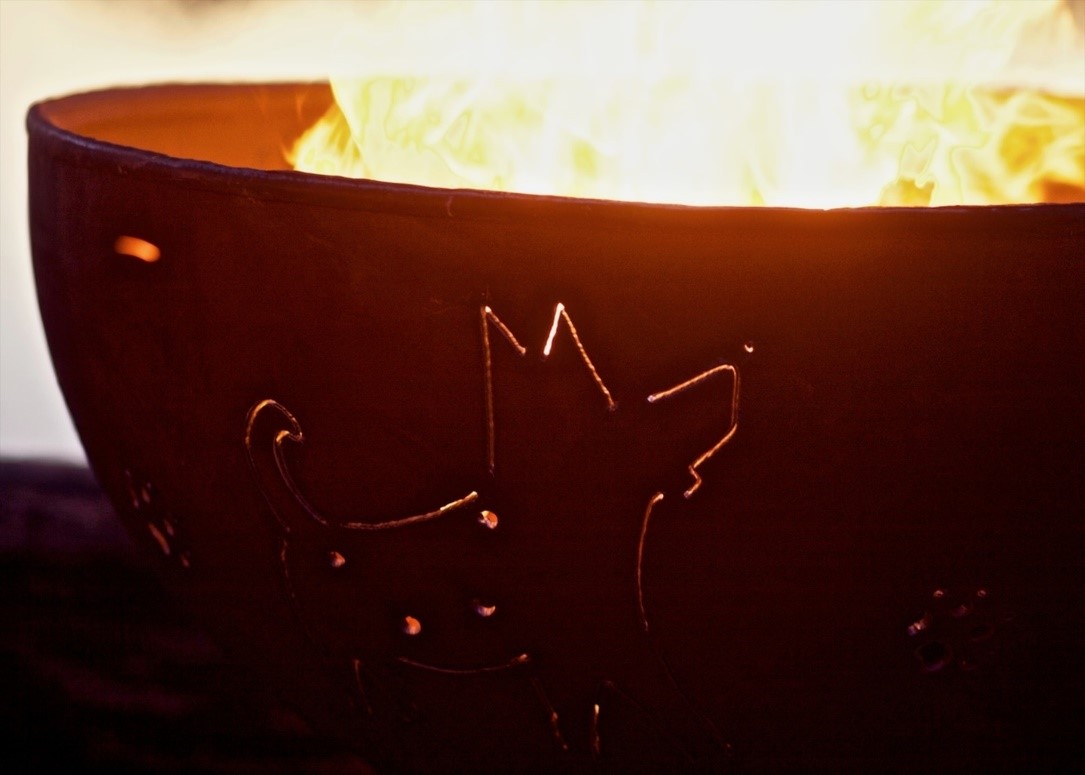 Have a fur baby that you love? Pay homage to your little pup with the Funky Dog fire pit! The original design was a custom piece for a family friend who loved her dog. As with our other models, the inner bowl consists of heat resistant coating. Enjoy the whimsical fire pit of man's best friend!
Antlers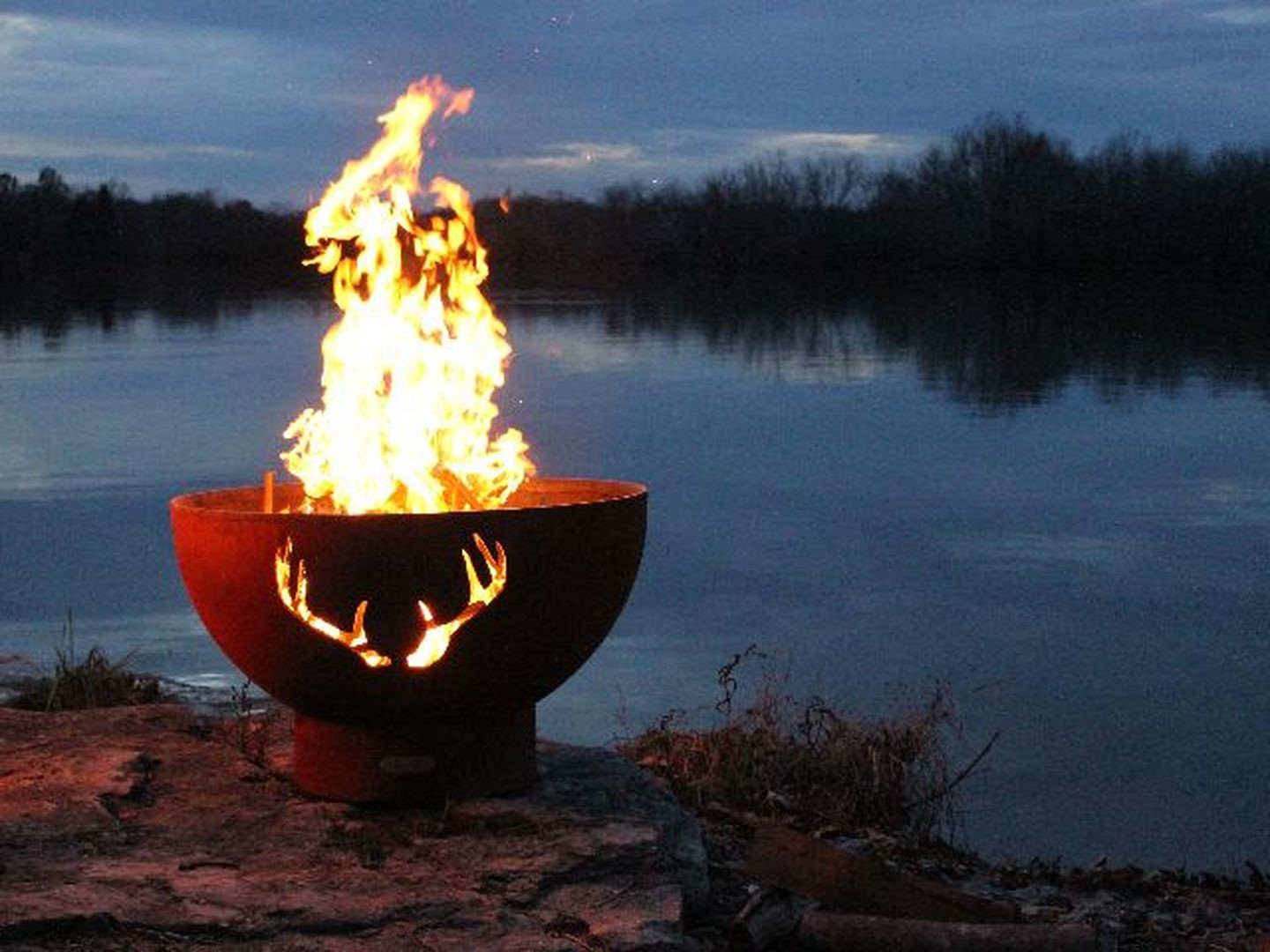 Enjoy the glow of Antlers and watch your yard for a passing whitetail deer. This magnificent creature lives from in a range from Canada to Peru. The whitetail deer was the creature inspiration behind Antlers 36-inch fire pit.
Africa's Big Five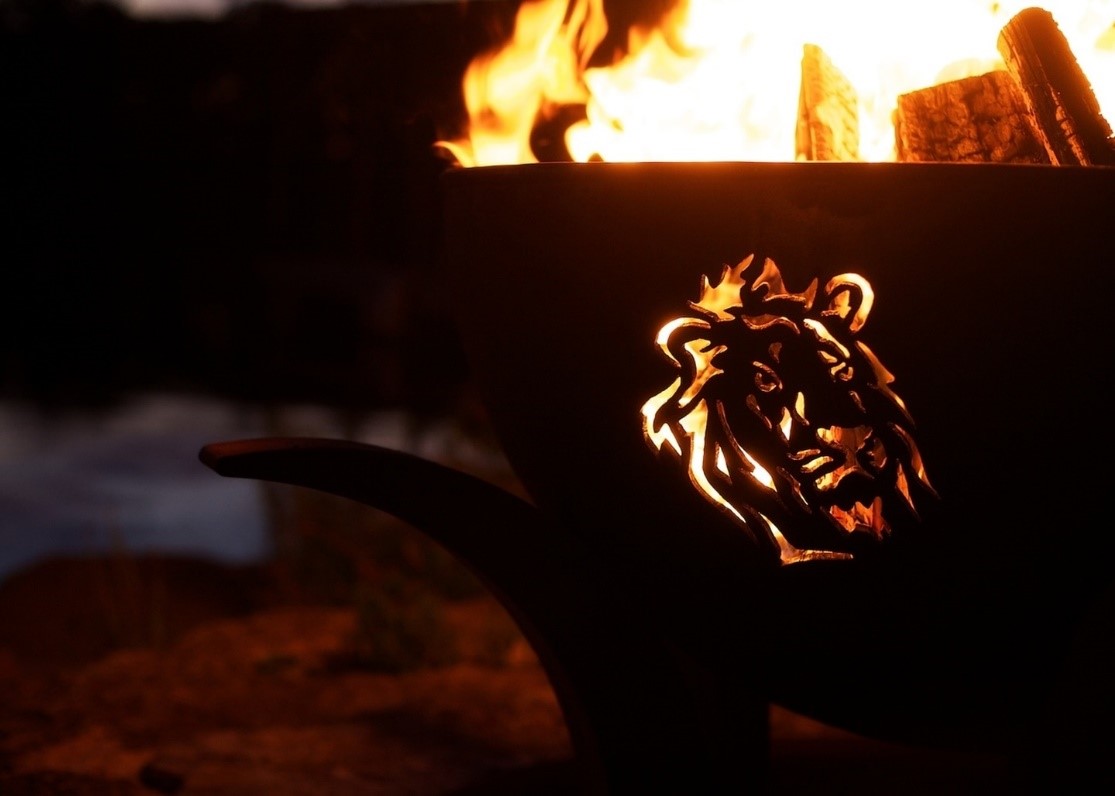 Africa's Big Five has five magnificent creature inspirations. Our design features the hand-carved "Big Five" animals of the African Safari. The Lion, Elephant, Rhino, Leopard, and Buffalo. Allow these sought-after wildlife bring out your wild side!
Longhorn
Howdy. Crave the old wild west vibe? Check out our Longhorn fire pit. Carved mild carbon steel illuminates the classic icon of the wild west as you relax around your fire pit.
Kokopelli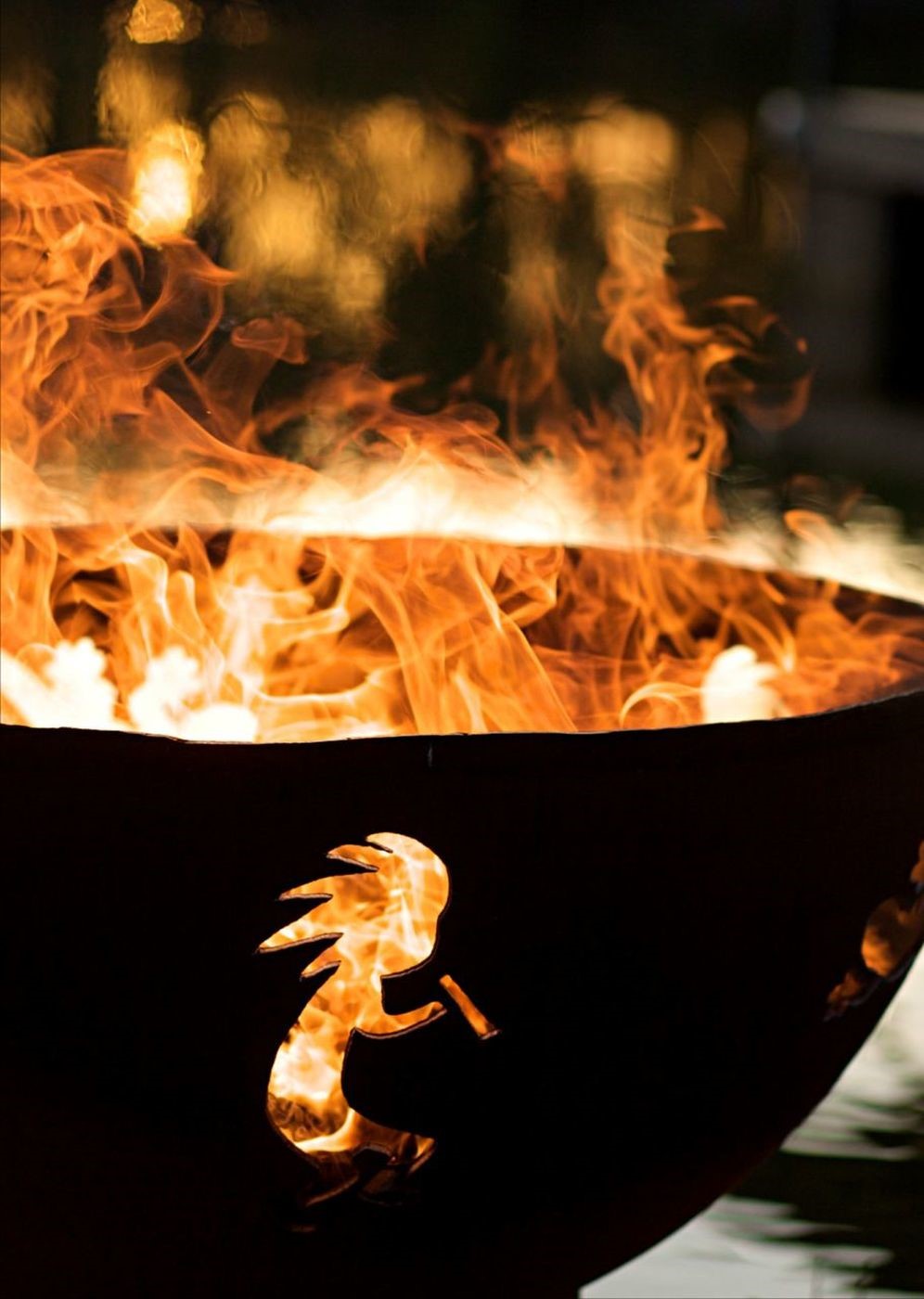 Kokopelli is the Hopi Indian God of fertility. The Kokopelli fire pit pays homage to the Native American heritage through her image. You will find Kokopelli playing her flute along the outer ring of the design. In addition, the Inquisitive Gecko and bright noonday sun are also among the carvings.
Want to see more and contact about a custom piece that fits your home? Contact us today and visit our social media on Facebook, Instragram and Twitter!