Accessories for your Fire Pit
Time to accessorize your fire pit! It is the perfect time to add a fire pit to your home! The weather is chilly, and a warm fire is the best way to enjoy it! Now you can relish in the ambiance and beautiful area that you have set up for your family and friends. So, what kind of fire pit did you decide on? There are so many options that you have to choose from to bring your space together. Whatever you choose, you should know that you still have options to accessorize it! Our fire pits are unique on their own, and you can add some additional items to make your area ideal for you!
Lovely Additions
Depending on what type of fire pit you have and where you place it in your yard, you may want to consider getting a spark guard. A spark guard is a shield-like product that goes over the fire when lit to help protect against sparks. If you have large crowds, children, dogs, or other people that may get too close, you will want to invest in spark guard. When you are dealing with any type of fire, safety should be the first concern. Now come the options! Do you know what type of Spark guards do we have available? Here is an example of one of our spark guards and what you can expect when you purchase from us. The Artisan Spark Guard - 34.5
This spark guard was handcrafted from heavy stainless-steel mesh and two-inch-wide 304 stainless steel bands. It was then painted with black high-temperature paint. These spark guards are going to last you, and they fit Fire Pit Art products, great! Check out this page for more info on additional spark guards and other products.
If you are not planning on using the fire pit for a season, you will also want a fire pit cover. Our fire pit covers are canvas and built to withstand several elements. Fire Pit Cover - Canvas 36" is an example of our products. This canvas was made from 300D stock-dyed polyester. It has a convenient, adjustable drawcord to cinch the cover tight, so it doesn't get wet or dirty. It has a built-in mesh vent for airflow as well as an elastic hem around the bottom, so it fits snug and does not allow anything inside. This cover can protect your fire pit from dirt, dust, and UV fading! If you are going to invest in a fire pit, it could be a great decision to get the necessary accessories to keep it in good condition.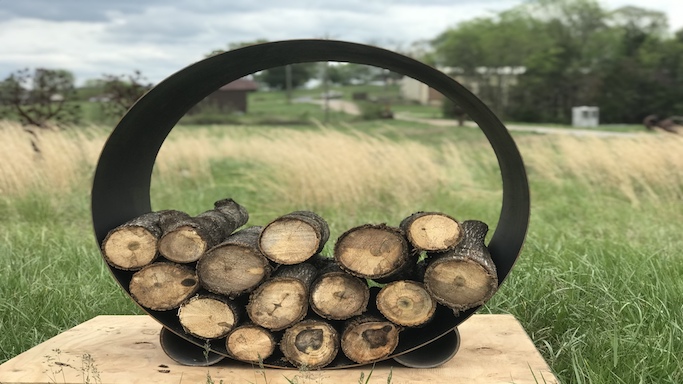 What Goes In your Fire Pit?
What are you putting in your fire pit? It all depends on what type of fire pit you have. There are several options to choose from on what you are putting in the actual pit and how you are storing things outside of the fire pit. For example, if you choose to use logs, consider some options as to how you want to store them. We offer a beautiful crescent log rack that adds a beautiful addition to your fire pit area. This log rack has a wingspan of 39" and is 21" in height. It has an iron oxide finish that has the ability to darken over time. But the best part is that it is maintenance-free! This is another example of the art that you can bring to your home. It serves a great purpose as well as a beautiful addition to your backyard oasis.
Have you decided that you want to use fire glass or coal? Coals are great if you like to cook over your fire pit or use a Dutch Oven. Coals also add a different, smokey taste to what you are cooking! You may notice less sparking and embers flying as well when you are using coals overusing firewood.
Linear fire pits are a great reason to learn about fire glass. This is a tempered glass that adds stunning color and a reflective look to your fire pit. Fire glass is also known for being eco-friendly! It doesn't emit harmful pollutants in the air as much as other substances have the ability to do. Fire glass also can save you money! This glass lasts around 4-8 years (sometimes longer), and it doesn't melt or
change color! However, you can get new glass throughout the seasons and use it as a festive touch to your outdoor space!
A Firepit is an investment that you will use for several years to come! Why not look into how you can make it more vibrant or accessorize your outdoor area? If you have questions on what would make your fire pit experience more enjoyable, we would love to help!